The Awards Page
Welcome, whoever you may be, to my virtual awards showcase for all to see. Here I store all the awards that I have received over time for my web site. I hope this page will grow larger in time and show at least some success in making myself a presence on the web.
Web Friendly Award

Webcenter Approved website
Web Site Excellence award

Website inovation award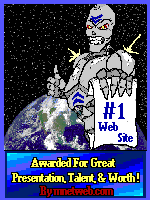 Mnet Web #1 Web Site

Market-Tek Design Award

Elite Web Site Award

Award of Excellence

Best of the Planet Awards 1998
That's all of the awards so far. When I get more they'll be up here. Sayanora!